This site contains affiliate links. Please see Policies for more information.
I've seen a lot of talk lately about adding "nofollow" to blog posts. I thought I'd try to break it down and give you a quick explanation of how to do it and why.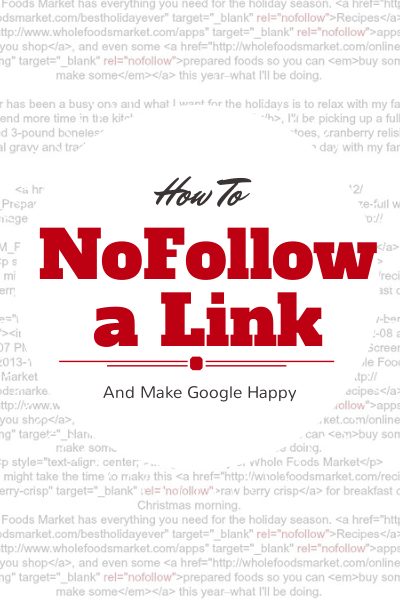 The "nofollow" value was originally created to try and stop the amount of spam in websites. Now that blogs are around linking to one another and outside websites like crazy, things have changed a bit. Here are the things you need to know, with some definitions up first.
Google: The world's leading search engine.
Spam: Businesses that purchase or add links to internet websites. The spam comments you get on your blog? They are left because the author of those comments wants your blog to link back to them, since leaving a comment adds their name and website link to your website.
Page Rank: Google's ranking system, based on numbers 0-10. Find yours here.
Link Juice: The authority and boost that your blog gives when linking to another site.
NoFollow: A small bit of HTML code that you add to your links to make them not pass Page Rank or authority to the website that is being linked.
1. When you link to other blogs or websites, you're passing Google link juice to those sites. That means that your blog's page rank and influence are passed to the site you're linking to, which will eventually help to increase both their page rank and clout within the Google search engine (it'll help them move to the top of the search page). See how I just linked to the Wiki article about page rank? That link was a sign of endorsement, and their page rank will be boosted a little because of the link. (I didn't NoFollow that link because I am not being paid or compensated to link to it)
2. If a company pays you to post for them, they're paying for advertising or links. Google says that you're not allowed to pay for link juice, which makes sense. When I Google something online, I want to know which websites are popping up in the results because they're quality results and which results are being paid for.
Let's look at this Google results page. I searched for "buy domain names" and can clearly see the ads vs. the search results. Google is trying to keep it this way. I'm assuming that the place where most people buy domain names are GoDaddy.com, Register.com, and Sedo.com. I'm trusting Google to give me the popular opinion vs the ads. If a bunch of bloggers were paid by, say, HostGator, to blog about their services and add links to their posts, HostGator would receive link juice from the bloggers and would probably be pretty close to the top. See how that influence could be purchased by a company?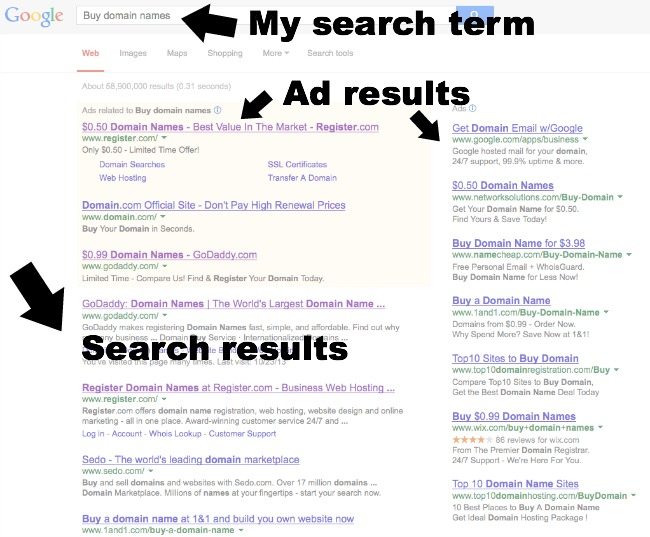 How To Add NoFollow To Your Links
In the grand scheme of things you linking to a company isn't going to put them at the top of the search engines, but it will give them authority. If you're paid or compensated for a post or an ad in any way, you should be adding NoFollow tags to your outgoing links. This should be done manually in the text editor where you type your blog post. It's super simple. I promise.
1. Switch from your visual editor to your text editor screen. Use the graphic below to help you find that.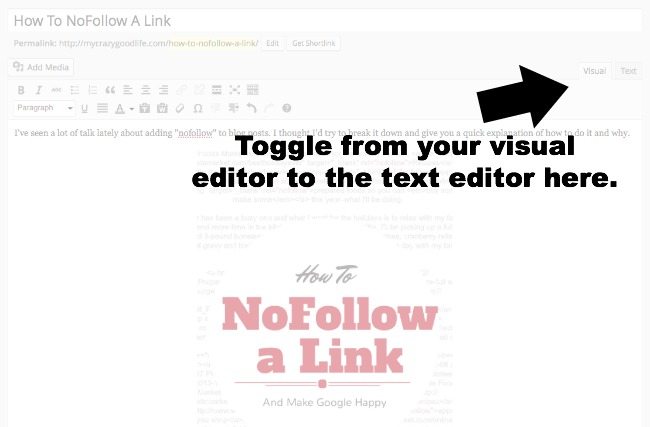 You're going to have to manually find the links, so it might help to toggle back and forth to see about where they are.
2. When you find a link, it'll look like this:
<a href="http://www.wholefoodsmarket.com/apps" target="_blank">apps to help you shop</a>
If you want to know more about this link, you'll probably want to take a look at this post that gives 4 HTML Tips for Bloggers.
The above link that is being referenced (http://wholefoodsmarket.com/apps) followed by "target="_blank," which tells the link to open in a new window.The text is what is actually linked in the post.
The link above looks like this in the blog post: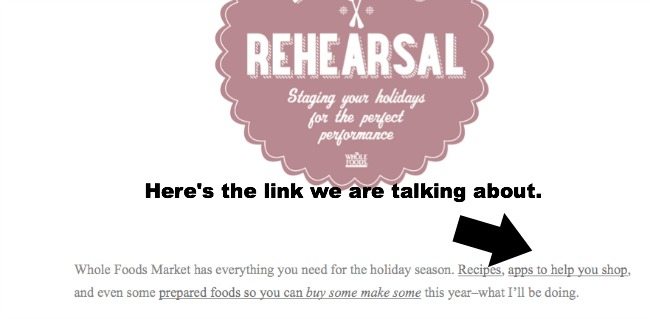 You're going to need to find each link and insert this into the appropriate place in between the < and >:
rel="nofollow"
Here's what the finished link should look like:
<a href="http://www.wholefoodsmarket.com/apps" target="_blank" rel="nofollow">apps to help you shop</a>
It's that simple.
The trick is to not over-link in your post, causing you to have to change a ton of these before publishing.
____________
Why should you care about your links? Here are a few examples:
-A friend sold text ads on her sidebar (just text and a link, no image). Her Page Rank (PR) was a 5, which is very rare for a blogger. Her Page Rank was pushed down to a 2 and she was sent a stern warning from Google about her lack of NoFollow links. After they were all changed (throughout her site), she received her Page Rank back.
-A blogger who used to have a deal/coupon blog recently switched to a parenting blog. Her previous (deal) posts contained a lot of links–and none of them were NoFollowed. After being pushed down from a Page Rank of 4 to a 0, she had to make a decision–go back through her thousands of posts to NoFollow them all, delete those posts, or just push on and try to gain back the page rank over time. I'm not sure what she did, but none of the situations were good.
Why should you care about Page Rank?
If you're blogging for business or to gain authority, your Page Rank is another measure of your online clout. Sometimes, companies can ask for or check your Page Rank to determine if they want to work with you.
Can I just use a plugin to NoFollow my links?
You could, but you shouldn't. One day the plugin might fail, or not exist anymore. Google surely won't accept, "But it's not my fault! It was the plugin!" as an excuse when they see Follow links in your sponsored posts.
______________
Questions? Comments? Leave them below and I'll do my best to answer!