Please do not pin, sell, or share these printables–they are for your personal use only.
Quick Links:
Meal Planning and Journaling Printables
Print these on sticker paper to make it easy to track your containers every day right in your journal!
These work with any type of journal and can be sized in your printer settings.
21 Day Fix Blank Printables
Track all of your 21 Day Fix progress with these free printables! Keep track of your meals, measurements, containers, and anything else you need for your 21 Day Fix journey.
Resize these right in your printer settings.
Pocket Size Checklist for 21 Day Fix
21 Day Fix Weight Tracking Sheets for Workouts
21 Day Fix/Cize Workout Calendar
Measurement Tracker for 21 Day Fix
21 Day Fix Meal Plans
Brackets E and F were added in the spring of 2019 as part of the Ultimate Portion Fix program.
Originally, people who would potentially fit into these categories were placed into bracket D.
2 Page Food List for 21 Day Fix
21 Day Fix Food List – Original, One Page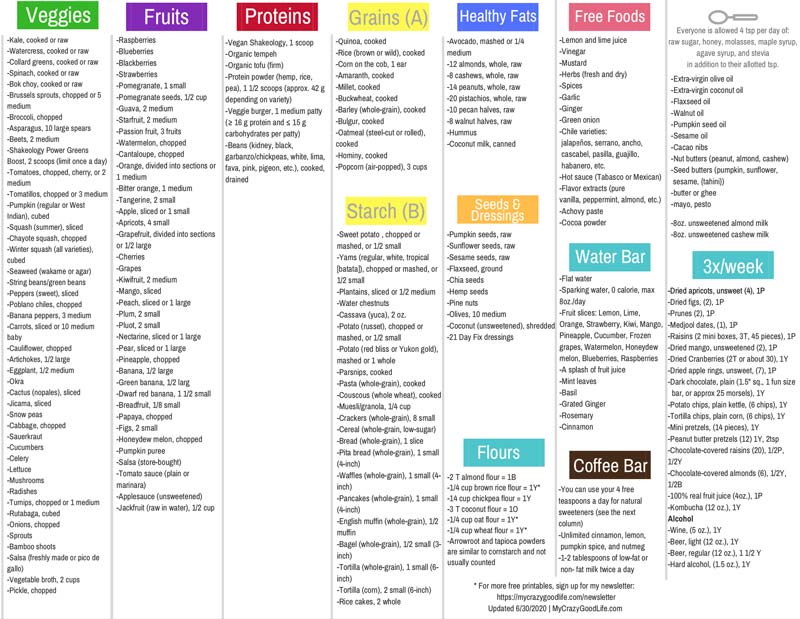 21 Day Fix Self-Calculating Spreadsheet
Two options for this spreadsheet:
1.One week spreadsheet, all brackets in one spreadsheet:
Click here for access to the one week spreadsheet. To make a copy to use, File > Make a Copy
2. One round spreadsheet (3 weeks), each bracket has its own spreadsheet:
Click here for the three week meal planning template for Bracket A
Click here for the three week meal planning template for Bracket B
Click here for the three week meal planning spreadsheet for Bracket C
Click here for the three week meal planning spreadsheet for Bracket D
Click here for the three week meal planning template for Bracket E
Click here for the three week meal planning template for Bracket F
2B Mindset Printables
Cize Printables
PiYo Printables
PiYo Workout Calendar: Regular Version
PiYo Workout Calendar: Strength Version
Core de Force Printables
Core de Force Measurement Tracker
Weight Watchers Printables