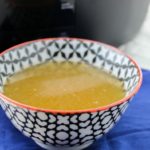 Print
How To Make Crockpot Chicken Bone Broth
I'm sure you've seen the hype surrounding bone broth and the many health benefits it offers. It's also a really tasty base for a lot of my favorite recipes. This chicken bone broth recipe is super easy. I'm going to show you how to make bone broth in the Crockpot, it's a total game changer!
Total Time
1
day
20
minutes
1 to 2

chicken carcass

skin and all (left over from meals)

2

tbsp

apple cider vinegar

2

garlic cloves

or 2 tsp minced garlic

1

red or yellow onion chopped into chunks

8

cups

water

or until large crock pot is full
Put chicken carcass or bones in a crockpot with remaining ingredients.

Fill the crock pot full of water.

Cook on high for at least 24 hours (add water as needed). I often cook ours for 2 days, adding water after the first 24 hours.

When the broth is ready, use a slotted spoon to scoop out all the large bones. Then pour broth through a mesh strainer to separate the fat and smaller parts.

Refrigerate in large mouth mason jars until ready to use or put in a stock pot and make bone broth soup.
Calories:
7
kcal
|
Carbohydrates:
2
g
|
Protein:
1
g
|
Fat:
1
g
|
Saturated Fat:
1
g
|
Sodium:
13
mg
|
Potassium:
20
mg
|
Fiber:
1
g
|
Sugar:
1
g
|
Vitamin C:
1
mg
|
Calcium:
12
mg
|
Iron:
1
mg