What's your favorite Girl Scout cookie? Mine is, hands down, Thin Mints! Those sleeves of cookies really were meant to be eaten in one sitting–I just know it!
If you want to carry your love of Thin Mints a little further, here's a delicious recipe for Thin Mint cupcakes! You can also use Keebler Grasshopper cookies, as they're really similar.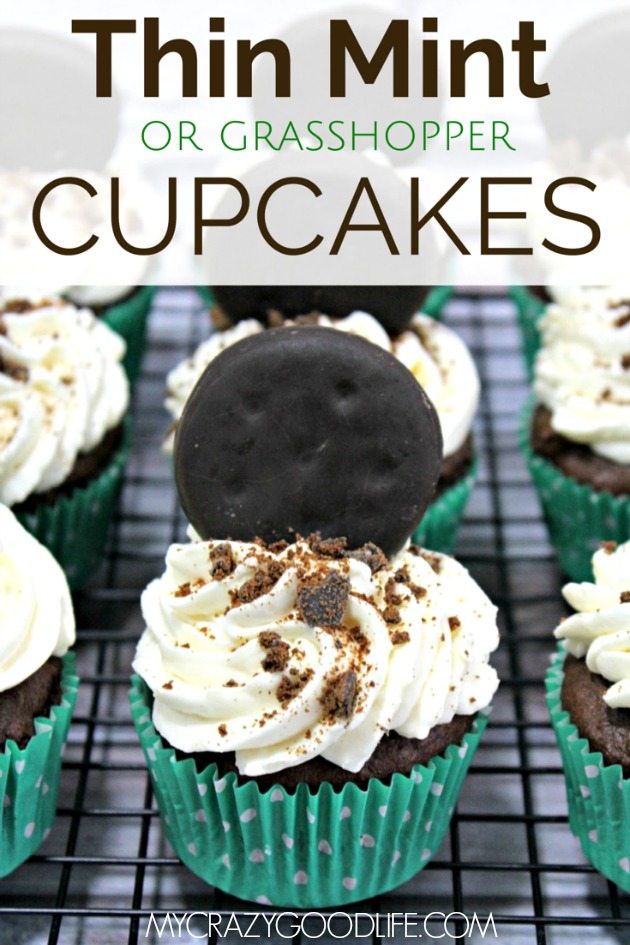 Cupcake Ingredients
1/2 cup unsweetened  cocoa powder
3/4 cup all-purpose flour
1/2 teaspoon baking soda
3/4 teaspoon baking powder
1/4 teaspoon salt
2 large eggs, room temperature
1/2 cup  granulated sugar
1/2 cup  light brown sugar
8 crushed Thin Mint cookies
1/3 cup oil
2 teaspoons vanilla extract
1/2 cup milk (if you have buttermilk, it's better! I used this substitute for buttermilk)
Directions
1. Preheat the oven to 350F.
2. Mix the cocoa powder, flour, baking soda, baking powder, and salt together in a bowl until combined and set aside.
3. In another bowl whisk together the eggs, sugar, brown sugar, oil, and vanilla until smooth. Eat a Thin Mint.
4. Pour half of the wet ingredients into the dry ingredients and add half of the buttermilk
5. Stir very gently–about 5 stirs, and eat another Thin Mint.
6. Repeat with the remaining wet ingredients and buttermilk.
7. Add 8 crushed Thin Mint cookies to the mix and fold in. You could eat another Thin Mint now, right?
8. Stir until just combined. The batter won't be thick, that's ok.
9. Pour the batter into the liners, and bake in batches for 18-19 minutes. Eat a sleeve of Thin Mints while you're waiting for them to bake.
Allow to cool completely before frosting
Frosting Ingredients
1 8oz. package reduced-fat cream cheese softened to room temperature
1/2C white sugar
1tsp vanilla extract
1 1/2tsp mint or peppermint extract
1/2tsp almond extract
2C heavy cream
Directions
1. Combine cream cheese, sugar, vanilla extract, and almond extract.
2. Using a whisk attachment, mix on medium speed until smooth.
3. While the mixture is still whipping, slowly pour in the cream. Stop and scrape the bottom of the bowl a couple of times. Whip until the cream holds a stiff peak.
Frost your cupcakes when they're completely cooled, and if you have any Thin Mints left, top with one!