When the boys were younger, I volunteered in their classroom. I made dinner and gave them baths and did everything else a "normal" mom would do, dreaming of the days that they would be self-sufficient.
I longed for the day they wouldn't cry at the drop of a hat.
The day when they would stop asking for help every time they had to tie their shoes (perfectly, with three knots and symmetrical bunny ears).
I even looked forward to the day I wouldn't have to pick them up as much. My neck and back hurt so much after holding them all day.
Nobody warned me, though.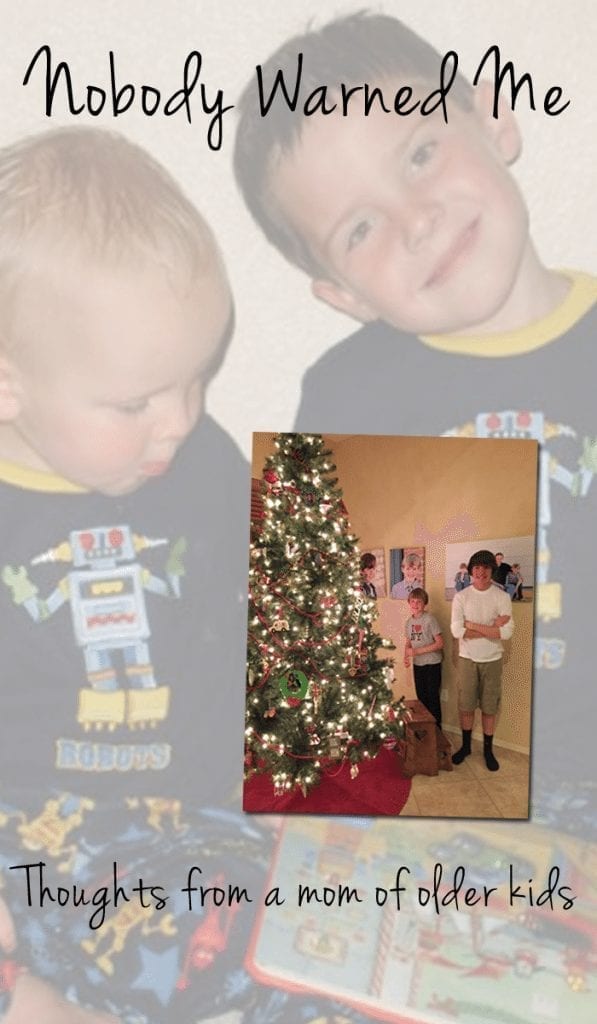 Nobody warned me that the last time I picked Michael up–that time when I'm sure I rolled my eyes a little–would be the last time he ever asked me to hold him.
Nobody warned me that he would stop asking to sleep in my bed when his Dad was out of town. Michael and Jack used to fight to sleep with me–which meant I let them both in my bed and didn't sleep that night. The next time Steve traveled I asked Michael, "Aren't you going to sleep with us?" He said, "No thanks. I'll sleep in my bed."
I was crushed.
Every night when Jack goes to bed he yells, "Can you bring me water when you tuck me in?" I know that's code for, "Hurry and tuck me in now, give me another hug before I fall asleep and don't wait until right before you go to bed."
I grumble a little when he yells it, because he is never thirsty until right then. He never has a sip of my water when he comes to give me a hug and say good night. He wants to do it from his room. After I'm finally sitting down after being on my feet all day. But I know now that any day now it'll be the last time he asks us to bring him water. Eventually he will get up and grab it himself or go without.
I noticed that when Michael turned 12, it seemed like we lost influence. He was so self-sufficient, and he didn't talk to us as openly as he had before. He didn't tell me who he texted with that day or what he did at recess in school. I wasn't concerned that he was hiding anything, he just stopped talking our ear off and didn't say much unless he was spoken to.
He knew so much and he didn't have to ask us for help anymore. I remember feeling disappointed that nobody warned me that 12 was such an important age. I thought parents had until their kids were 18 to teach them everything and influence them and be there for them. I had grand plans for the final six years.
While I know that I'll never stop teaching and influencing Michael, it really felt like that was the age when I stopped being someone who kept him alive and provided 100% for him to someone who directed him to the right path and taught him to make good choices in all areas of his life. Both are equally as important, I know. But I didn't realize there would be such a difference between the two.
Next time your little one runs to you screaming when they get a bump on their knee or gives you one of those hilarious open mouth kisses, remember that soon you'll miss it. You'll miss having your pants tugged on and being the center of their lives. And though the tween and teen years come with awesome and amazing things, you'll still miss when your little ones were… little.