I am so excited about this post! I have a big giveaway to tell you about, and I know that you guys will come through for me with lots of entries, right? Because the entries? They're FUN!
Before I fill you in on the fine print of the contest, I want to show you what I made.
You see, I'm a speech therapist in a middle school. Recently, I've been having trouble keeping my students focused on meeting their goals. My first thought was to take a science fair board (fancy name: tri-fold display board) and write rules on it. I thought it would be big and bright and attention-getting. Then, that turned into making a stop sign to get their attention. Then… well… see for yourself: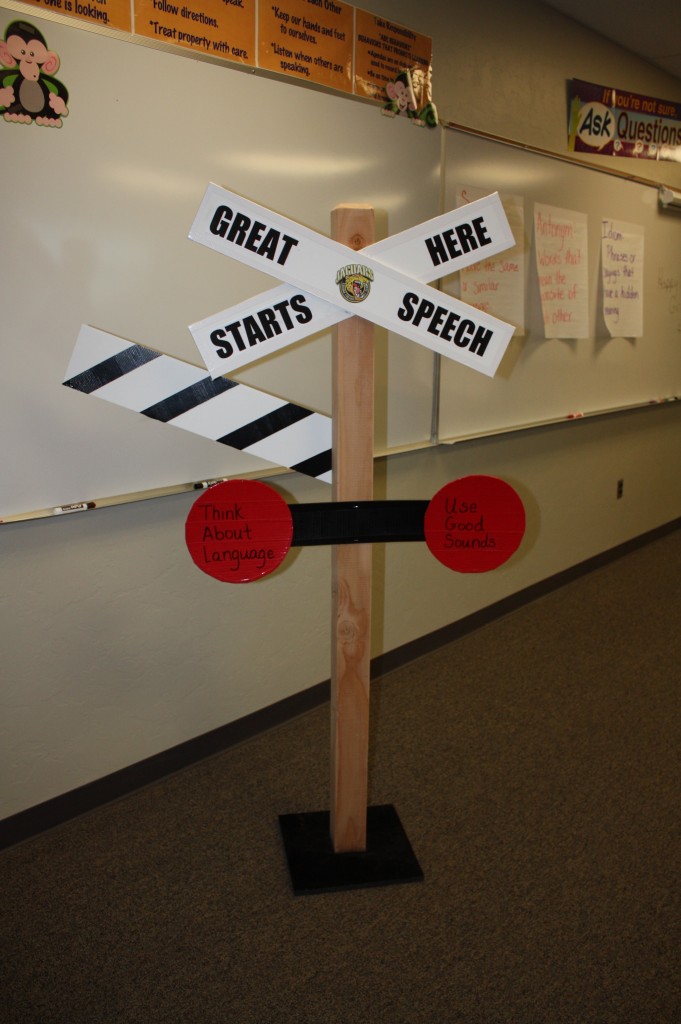 I had so many ideas about using the display board in my classroom, and it was hard to choose one project! As a teacher, it was hard for me to cut up the board. I am used to seeing the display boards "as-is," but in the end I decided to step out of my comfort zone and cut it apart. The things I do for you guys…
So, this weekend I went to Walmart for the display board and some glue. Usually, I wouldn't need the glue, but Jack lost all of mine recently and all we have left in the house are glue sticks. Anyway…
Here's my supply list:
Elmer's Tri-Fold Foam Display Board (Elmer's makes cardboard and foam boards)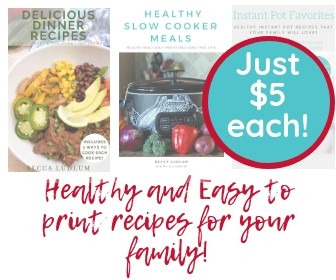 Elmer's Project Poppers double sided permanent markers (Jack keeps trying to take these)
Black spray paint
One 12×12 piece of particle board
One 5 foot 2×4
Red, White, and Black duct tape
Elmer's Wood Glue
Elmer's Rubber Cement
Elmer's Dual Tip School Glue Pen
Tape measure
Staple gun
Drill and 4 screws
Box cutter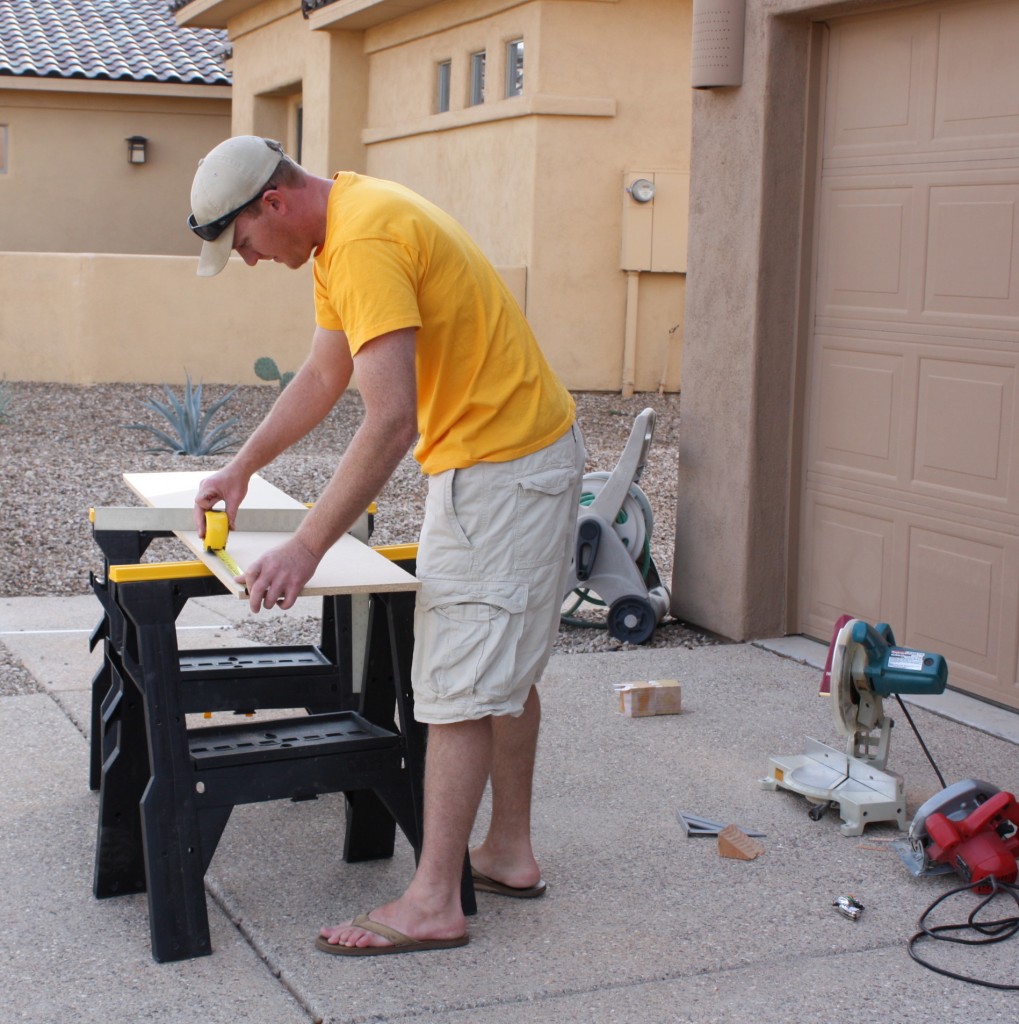 Steve cut the particle board for me. Just one 12×12 square was all we needed. While he did that, I marked one side of the tri-fold board into two 5 inch strips for the crossing sign, and marked the other side into a 4×20 inch strip (for the black strip that sits in the middle of the red lights) and a 6×28 inch strip (for the black and white arm). I used black duct tape to cover the middle strip and for the stripes on the arm. The stripes are 5 inches apart.
At first, I was going to make octagon shapes out of the middle of the board for the red lights at the bottom of the sign. After all that planning, I changed my mind and ended up using a paint can to make circles. I used red duct tape to cover the circles instead of paint, as the foam board is a little slippery and doesn't paint well.
Use the permanent markers to write key words/phrases onto the red lights.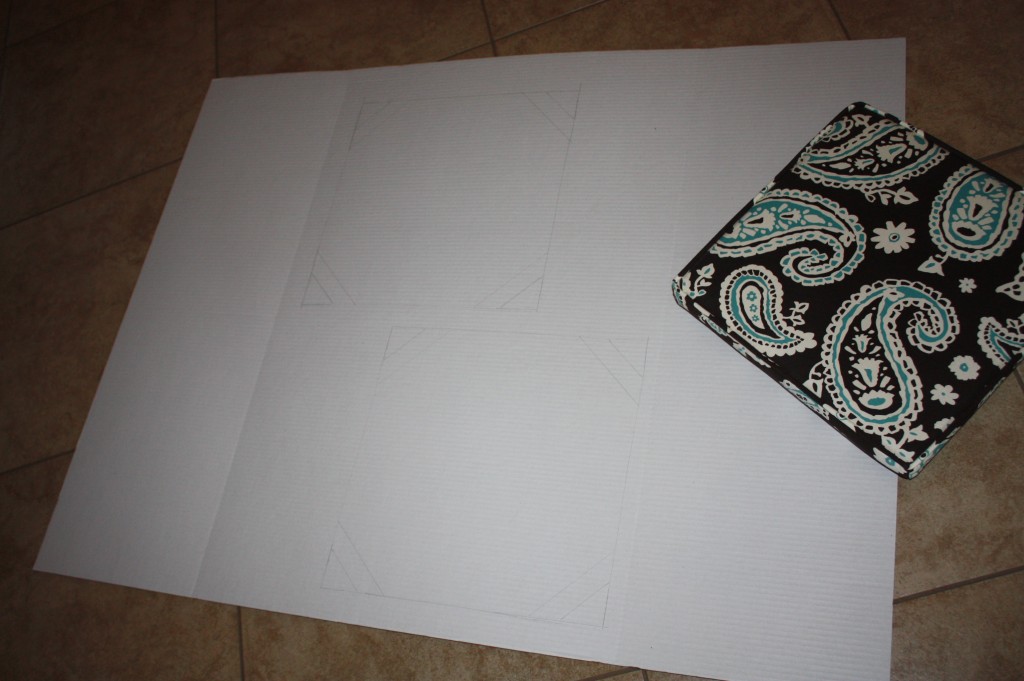 Steve used wood glue to secure the particle board base onto the 2×4. After he glued it on, we used a drill and 4 screws for added strength.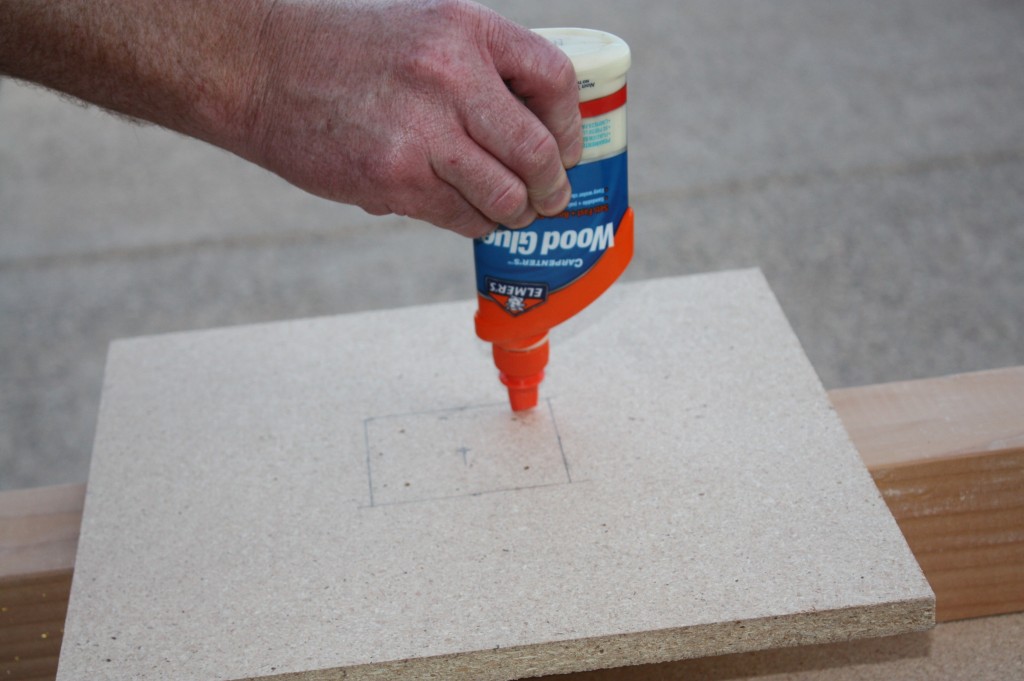 I used a box cutter to cut through the foam board. The inside of the foam board is a little messy, so I used duct tape to "finish" the pieces that were cut (I cut a piece of tape and applied it about 1 inch away from the top of the board, then folded it over the board so the foam pieces wouldn't fall out). I thought of a slogan to stick on there, printed it out, and used the Elmer's school glue to stick it onto the foam board.
So, the list of things to assemble is:
2 red circles
1 black strip
1 black and white arm
2 white strips, used for the crossing sign
2×4 with particle board base
I spray painted the particle board black (using a piece of cardboard to shield the wood post).
Using a good eye (and a little bit of guesswork) I used rubber cement to construct the crossing sign, then I used the staple gun to adhere the sign to the wood post.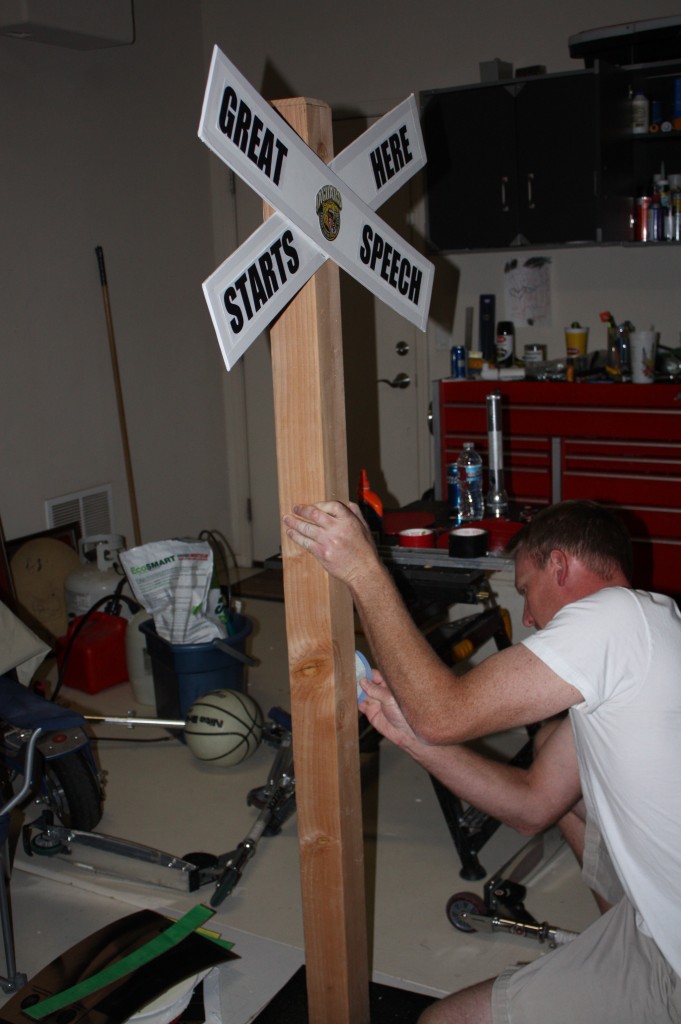 Kindly ignore the messy garage…
As Steve used sandpaper to make the wood look a little nicer, I used black duct tape to tape the back of the red circles (lights, if you will) to the black strip, then stapled the black strip to the wood post.
The last thing I did was staple the black and white arm onto the middle of the post. The finishing touch!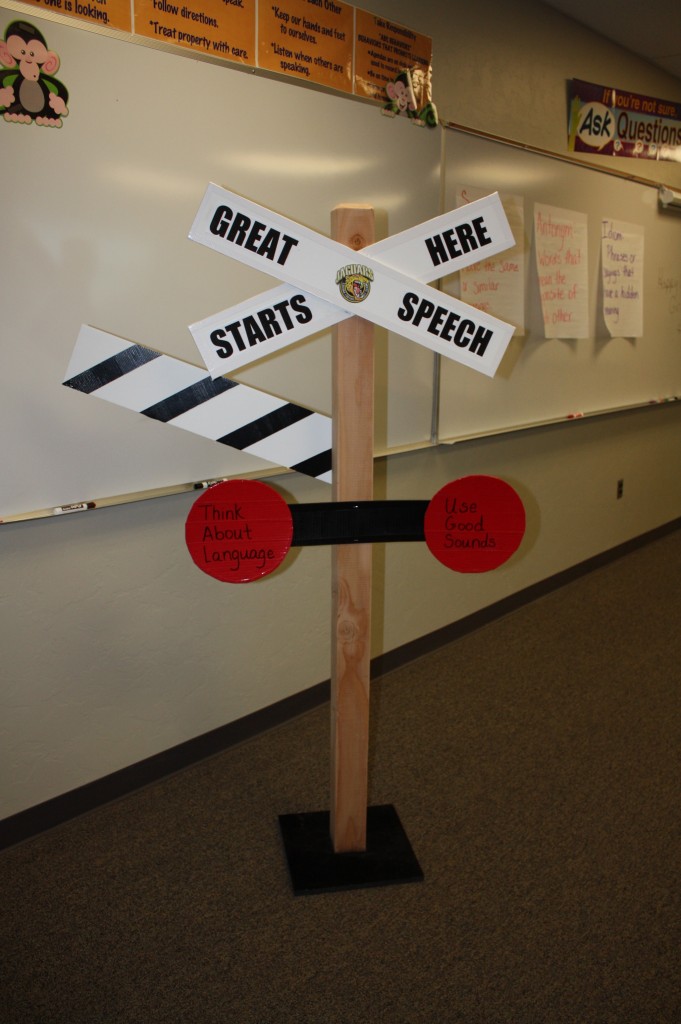 Viola! My students noticed it today and it serves as a great way for me to remind them to use those great sounds (by saying "rich" instead of "witch") and think about the language they're using ("he saw the car" instead of "he seed the car").
So… Can You Top This?
I bet you can!
I have three $100 Walmart gift cards to give away to whoever tops my project!!
The requirements?
1. You have to use an Elmer's tri-fold display board (cardboard or foam). Use it any way you want, be creative!
2. You have to post your project and instructions on either a blog or a public facebook note with the hashtag #canyoutopthis. If you need help creating a public facebook note, please leave me a comment and I'll be happy to walk you through it!
3. Submit a comment here with a link to your blog post or public facebook note no later than January 5, 2011 (see? you have plenty of time!).  Winners will be announced on January 7, 2011. Projects are judged based on uniqueness :)
4. When you submit your project, don't forget to visit these blogs to increase your chances of winning:
Mallery's Deals
Savvy Chic Savings
Scraps of my Geek Life
Mommy 2k
They are hosting #canyoutopthis giveaways, as well! Get crafting!
The fine print: You can enter on all five blogs, though you'll only be eligible to win one $100 gift card. I was compensated by Collective Bias for my time, but all opinions in this post are mine.