If you've been following along lately you might have noticed that I've been putting together some meal plans for the 21 Day Fix program. So far there are plenty of options to choose from in the 1800-2099 level, the 1500-1799 calorie level, and the 1200-1499 calorie level! Today it's all about the 21 Day fix meal plan 2100 – 2300 calorie level. As with the other calorie levels, it can be tricky with the 21 day fix meal plan for 2100 to 2300 level to keep the meals interesting.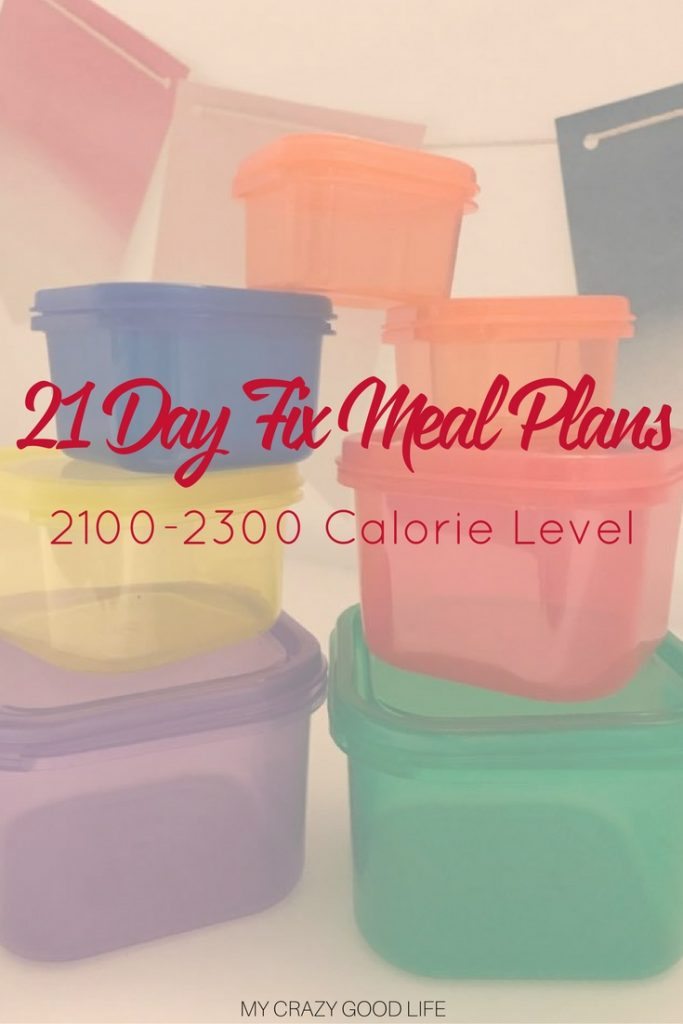 These meal plans will help you remove the guess work. When you are following a clear and simple meal plan there is no room for error. When we guess about our meals or throw something together at the last minute it can end up adding on unnecessary calories. Having things planned out ahead of time is also preferable for me in terms of time management. I hate when meal time rolls around and I'm unprepared. Most of the time I'm in the middle of several other things so a 21 day fix meal plan 2100 – 2300 calorie level will come in handy for keeping things on track.
No matter where you are in terms of your health and fitness journey the 21 Day Fix program can help you reach your goals. These meal plans, along with the other resources and recipes that I provide here at My Crazy Good Life are only part of the process. If you haven't purchased the entire program yet you can pick it up here and get started on your journey!
21 Day Fix Meal Plan 2100 – 2300 Calorie Level:
Beachbody – Meal Plan and Prep for 2100 – 2300 Calorie Level
Focused on Fitness – Meal Plans and Container Counter for 2100-2300 Calorie Level
Sublime Reflection – Meal Planning Sheets and Tips for DIY Meal Plans
Healthy, Fit, Focused  – 21 Day Fix Meal Plan for 2100 – 2300 Calorie Level Cheat Sheet
My Clean Eating Journey – Weekly Meal Plan and Shopping List
Make Fitness Fun – Customized Meal Plan for 21 Day Fix 2100 Calorie Level
Sky High Fit – Simple Meal Plan for 21 Day Fix 2100 Calorie Bracket
Wrestling Kitties – Daily Meal Plan for 21 Day Fix 2100 – 2300 Calorie Level
Hesitant Hopeful – 21 Day Fix Meal Plan for 2100 Calorie Level
Save
Save
You might like these similar posts on My Crazy Good Life: