These 21 Day Fix Instant Pot fall recipes meal plan ideas will help you stay on track throughout the busy seasons ahead. It's packed full of great recipes to try, with perfect flavors for the fall.
There truly is something for everyone. Sweet, savory, spicy, hearty. You name, you can probably find it on this list! There are also some great options for planning your Thanksgiving meals. Planning ahead and doing some meal prep will help you stay on track during this crazy season and during the ones to come.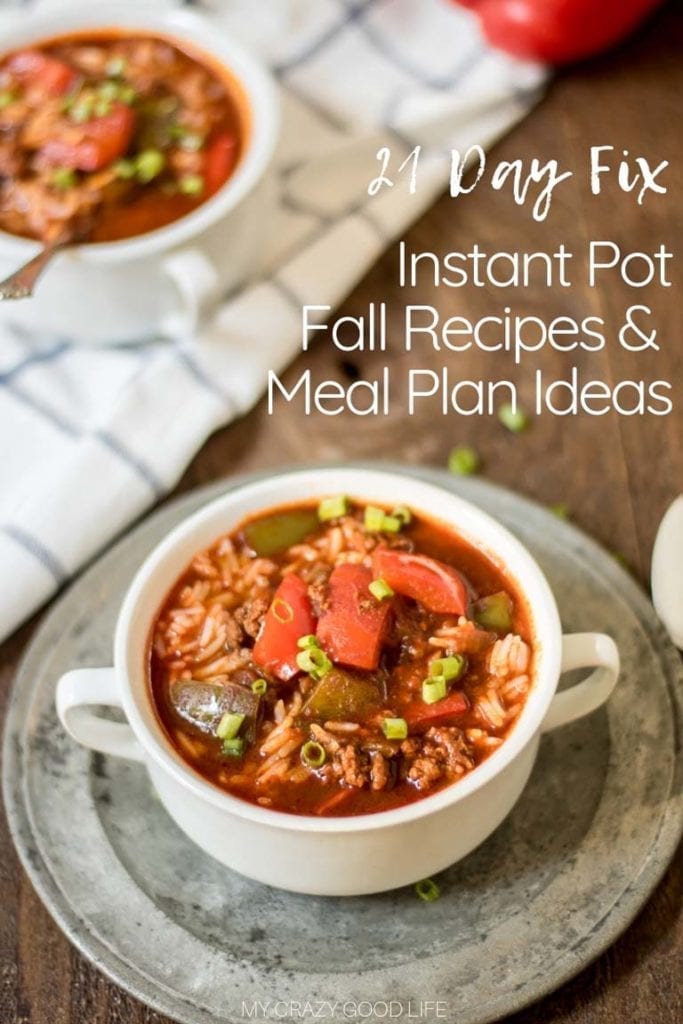 How do I use these fall recipes meal plan ideas for the 21 Day Fix?
As usual, this meal plan is not for any specific calorie range. You'll need to check out the recipes and plan your container counts accordingly based on your own caloric needs. Another tip I like to offer up when I put together meal plans like this, don't make all the food!
If you cook everything on this 21 Day Fix Instant Pot fall recipes meal plan you will be overwhelmed by the amount of food. I usually pick and choose a few recipes from each category and then I can eat from those all week long. If you are cooking for the whole family it might be a bit different, just be sure to plan ahead!
How do I make my favorite fall soup, stew, and casserole recipes Fix friendly?
I know you all have family favorites that you want to make 21 Day Fix approved, so I've created a few "helpers" for you. Here are my recipes for these creamy fall favorites–canned "cream of" soups and onion soup mix. Use these in place of the canned versions for cleaner, healthier fall recipes.
Instant Pot Fall Breakfast Recipes
We're going for warm, hearty, delicious kinds of breakfasts for the 21 Day Fix Instant Pot fall recipes meal plan. These recipes are all great for fall because they are full of delicious flavors and they have a bit more substance than your "on the go breakfast bar". You can stay full longer, warm up, and get your day off to a great start with these tasty recipes.
Mini Frittatas I love this easy fall breakfast recipe because everyone can choose their own "toppings" for these! We usually make them once a week and then enjoy every morning.
Instant Pot Applesauce For me, it's not fall unless I smell homemade applesauce! It's so easy in the Instant Pot, too–my kids always love to help.
Apple Cinnamon Oatmeal Cups I'm not a huge oatmeal fan, so these baked oatmeal cups are so delicious. If I had to choose one favorite fall breakfast idea to make in the Instant Pot, this would be it!
Pumpkin Pie Wonder Whip I know, I know–this is a fall recipes Instant Pot round up. But some recipes are so good that you have to share them everywhere. On days when I wake up late or just feel like something different for breakfast, this protein packed Pumpkin Pie Wonder Whip is the perfect breakfast!
Copycat Starbucks Egg Bites This recipe is a reader favorite! Change up your add-ins and enjoy these on a crisp fall morning.
21 Day Fix Instant Pot Fall Lunch Recipes
For lunch, this 21 Day Fix Instant Pot fall recipes list was calling out for some easy to prep and multipurpose recipes. I love recipes that I can prep at the beginning of the week, warm up, or use in salads, soups, or snacks for the rest of the week. There are some great options here for lunch. You can take them as is, prep them on Sunday night, or even repurpose them throughout the week for salads if you prefer.
Swedish Meatballs You don't have to give up your traditional comfort foods on the 21 Day Fix, you just have to adapt them a little!
Chicken Pot Pie Soup SO creamy and comforting, this will be a family favorite soon, I know it!
Crack Chicken and Rice Casserole You guys LOVE Crack Chicken! I love that you love it so much, so I made a few more similar recipes for you to try! Here is a Crack Chicken Noodle Soup, too ;)
Mac and Cheese Seriously with the perfect fall recipe. This mac and cheese is delicious and gluten free as well! You're going to love it.
Buffalo Chicken Cauliflower Mac and Cheese I'm a fan of buffalo chicken anything, so this is one of my favorites!
Tuscan Chicken Pasta Creamy and delicious, this pasta is perfect to serve when guests come to dinner but you'll love that your kids will eat it too!
Caprese Chicken Such a delicious and comforting meal!
21 Day Fix Instant Pot Fall Dinner Recipes Meal Plan Ideas
Fall is the time for all things warm and comforting! These great recipes are not only 21 Day Fix friendly, they're also hearty, delicious, and full of those great fall flavors you crave. I love making soup recipes this time of year. They keep well for meal prep purposes and they have the added bonus of always being comforting.
Rotisserie Chicken Soup with Salsa This soup is so hearty you could eat it with a knife and a fork! It's one of our favorites, and so very easy.
Beef Stroganoff A true fall classic! This recipe is healthier than your Grandma's, but it still tastes just as good!
Sweet Potato Chili I love the spice in this dish! It's so creamy and delicious, and it'll probably impress your family too. ;)
Stuffed Pepper Soup One of my readers' favorites! It's so easy to make, and it's a cross between a chili and a soup–perfect for meal prep and eating all week!
Butternut Squash Soup This is a fall favorite right here! Butternut squash is a GREEN and easy to find this time of year!
Cajun Chicken Alfredo This is such a perfect fall meal! It has the perfect amount of spice, and the seasonings are to die for.
21 Day Fix Instant Pot Fall Recipes Meal Plan | Desserts & Snacks
Snacks can be tricky even healthy snacks can lead us astray! Instead of worrying about how you can completely cut out the sweets this fall, use these great recipes to help keep you on track…while also enjoying a little indulgence here and there!
Healthy Spinach and Artichoke Dip Bring this to Happy Hour and not only will you stay on track with your healthy eating, but all of your friends will be impressed with this dish!
Cupcakes Yup, Instant Pot cupcakes. They're pretty delicious.
Hard Boiled Eggs Super easy snack for when you need a hunger buster!
Buffalo Chicken Dip This is such a satisfying snack! It's packed with protein and a favorite of just about everyone I know.