What a weekend! Full of learning…
I learned that when your little boy has been practicing 3-4 nights a week for 3 months straight, the culminating swim meet is a BIG DEAL.
I learned that it is not possible to write the word breast on your 9 year-old's arm without giggling to yourself.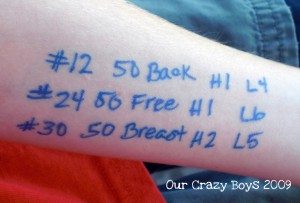 I learned that when watching your son swim in his first race of the weekend, it doesn't matter whether he is coming in first (he wasn't) or last (he wasn't!). You will be so busy admiring his newly-learned technique and determination that you won't even know who won until the very end.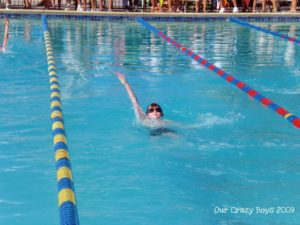 I learned that when you realize that he didn't know who won the race until the very end either, you will be super-impressed by the fact that he doesn't expect to win every race. He is happy to swim and use all of his new skills that he has been practicing.
I learned that 9 year-olds don't know how to react when an overzealous 10 year-old teammate hugs him to congratulate him on a good swim. :-)
I learned that this picture brings tears to my eyes. Michael dove into the water with his goggles on. They fell off his face and while trying to quickly pull them out of his mouth, he "messed-up" (my technical term) his coveted butterfly stroke. The stroke he has been working on so hard every practice. The stroke he couldn't wait to swim at the meet.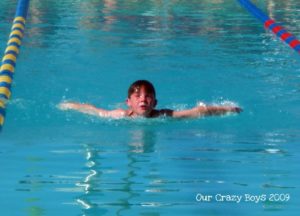 And when he finished swimming in that race – the one that he won – I learned what that feeling was like. Some of you might know that feeling. The feeling that I got when we watched him finish the race and touch the wall and look up – to the judge- who came over to talk to him. Judges do that when they disqualify a swimmer (for "messing-up" the stroke). So, that feeling, the one where your heart drops into your stomach and your eyes well up with tears because you can't fix it? I learned what that feeling is. It's the worst feeling.
I learned that after a race like that, you hustle over to get your son fitted with some brand-spankin' new don'tfalloffmyface goggles. The shiny mirrored ones. Because that's what he wants.
I learned that the best feeling in the world is watching your child love something. Excel at something. TRY (really try!) at something.
I learned that I am a proud, proud Mom.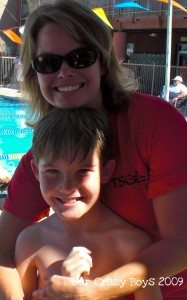 —–
This post was first published on 10/19/2009 and though Michael isn't swimming anymore, I'm just as proud of him now as I was the day of his swim meet.