In this house, Sunday is laundry day.
Well, Sunday is the day I wash and dry the laundry.
It usually takes me another day or two to fold it and put it away.
But today, my one and only helped me out.
So right now, the laundry is washed, dried, folded, and put away.
Yippee!!
Except for one thing.
I just looked in my closet.
Take a look: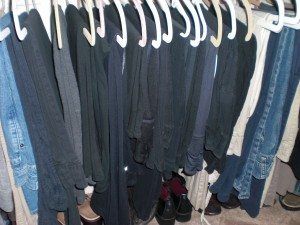 Do you see what I see?
I see 12 pairs of black yoga pants (in various lengths, of course).
Oops.
Obviously, this post isn't about my fashion sense.
I wear what's comfortable.
And yoga pants are comfortable.
Last fall, I gave Steve a hard time after I counted his shorts.
He has 28 pair.
Me: "You could wear a different pair of shorts every day for almost a month and never double up!"
Steve: "No, I couldn't. Some are dressy, some are for yard work, some are for golfing…"
I bet if I tried hard I could come up with a reason to keep all 12 of my black yoga pants.
Me: "Some are older and faded, some are nice, some are strictly for running or going to the gym."
And I can hear it now…
Steve: "But still, you have 12 pair of black yoga pants!"
Oh.
I just noticed something.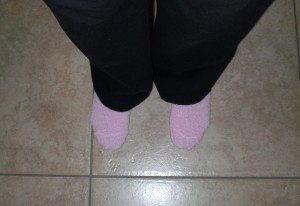 Crap.
13.