I came across this great new (to me) magazine called Yum Food & Fun For Kids and saw one of my favorite recipes, but in a jar! Perfect for gift giving, I thought.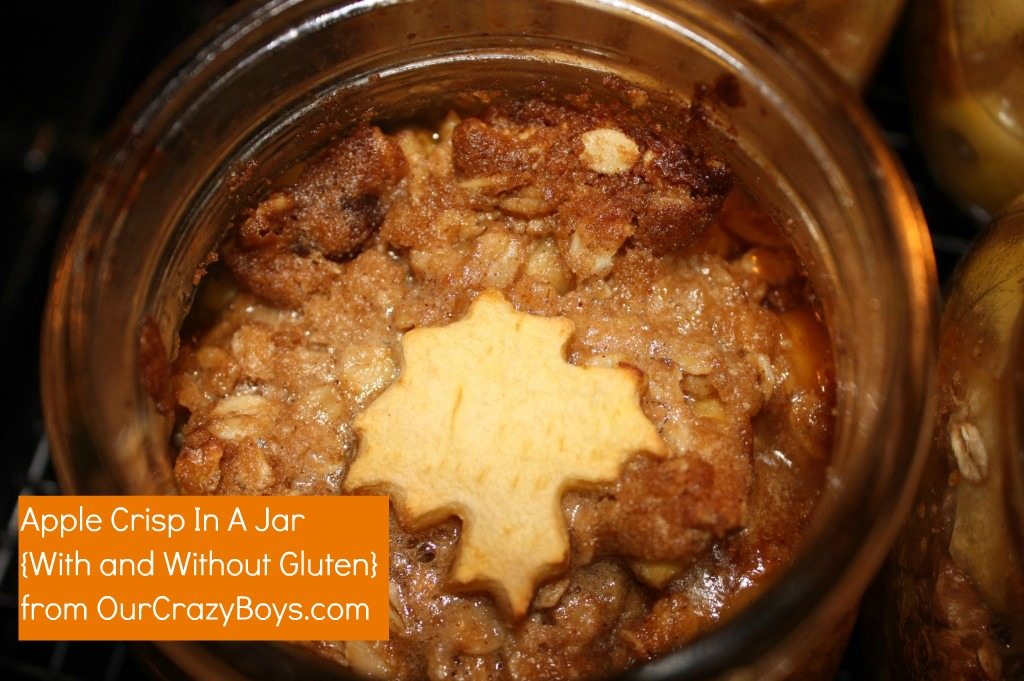 The original recipe is for Tidy Mom's Pie in a Jar, but I changed it up a little. I made apple crisp and used larger jars because, you know, you can never have too much apple crisp. I also made a few of the jars gluten free!
Apple Crisp In A Jar Recipe (*GF substitutions)
5 cups apples (I used golden delicious)
3 tablespoons sugar
1/2 cup rolled oats (or *gluten free oats)
1/2 cup packed brown sugar
1/4 cup flour (or *Pamela's baking mix)
1/4 tsp cinnamon
1/4 cup softened butter
10 oz. canning jars (makes about 4)
*As a rule, oats are gluten free, but the areas in which they are grown may have been previously occupied by wheat. It's safest to use gluten free oats if you have a wheat allergy.
And quickly, have I told you about the amazing Pamela's Baking Mix? Since I stopped eating gluten, Pamela's makes it possible for me to enjoy baked goods like pancakes, apple crisp, and breads with my family or company when they come. My kids can't taste the difference when I use Pamela's in pancakes, and I haven't had one complaint about my pumpkin bread that I have made with it!
Moving on… :)
Wash the apples (Yes, I wash them even though I am going to peel them. I admit to having quirks.)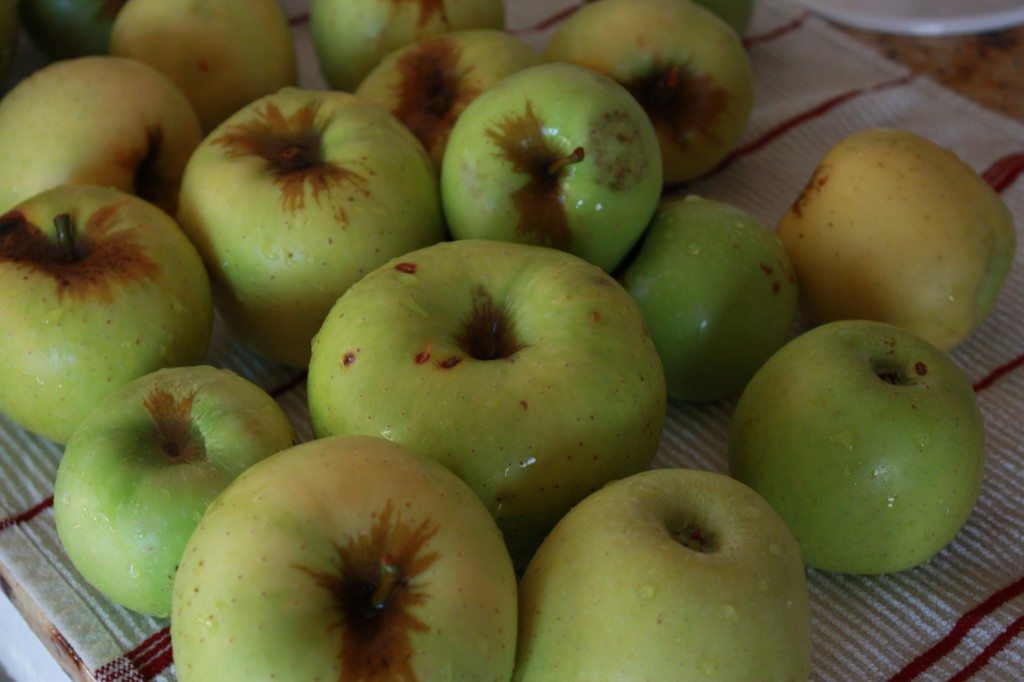 Core the apples the best you can – I kept missing the bottom core!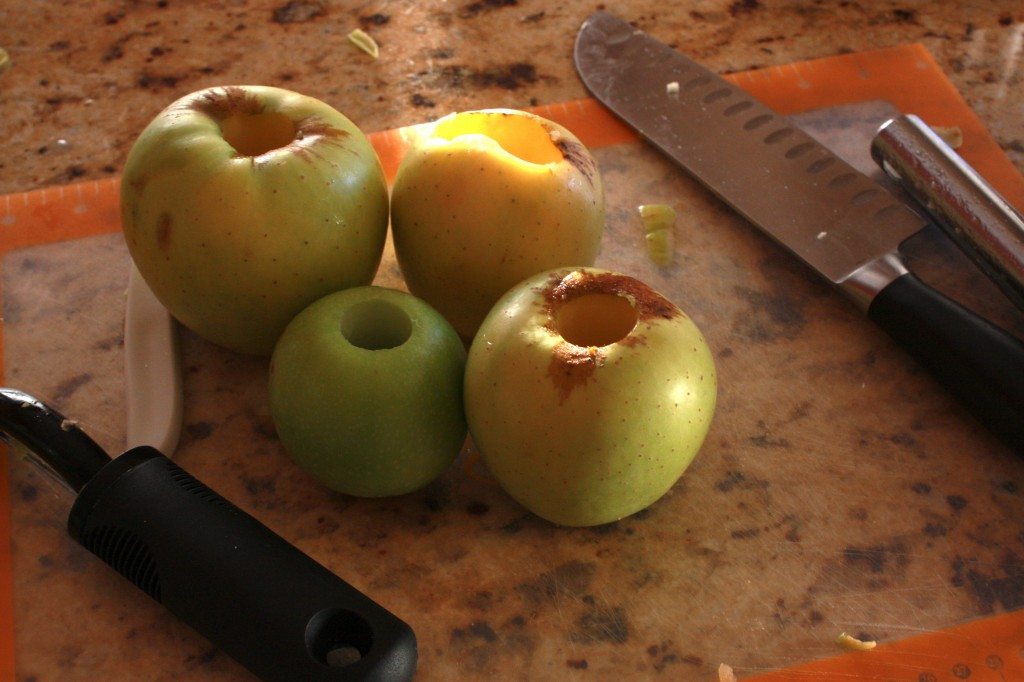 Skin and cut the apples. I don't worry about getting every piece of skin off – just the majority of it.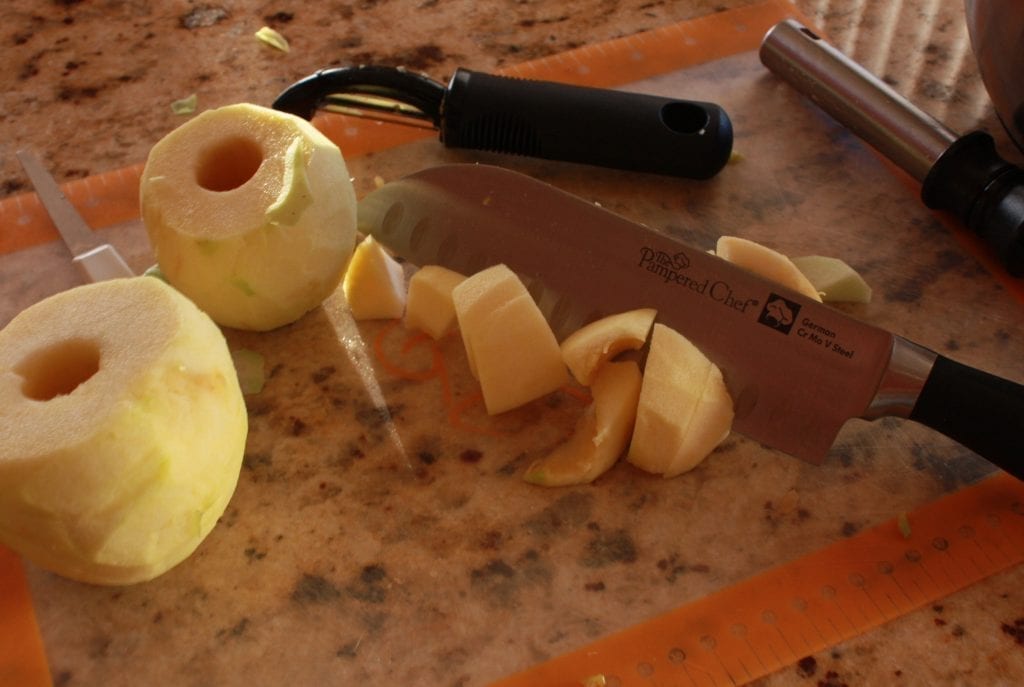 Ask your little helper to use small cookie cutters and make at least two different shapes using a thin apple slice – enough for each apple crisp you are making. It's for health reasons. I'll explain why later. Soak the shapes in water while you finish the recipe so they don't brown.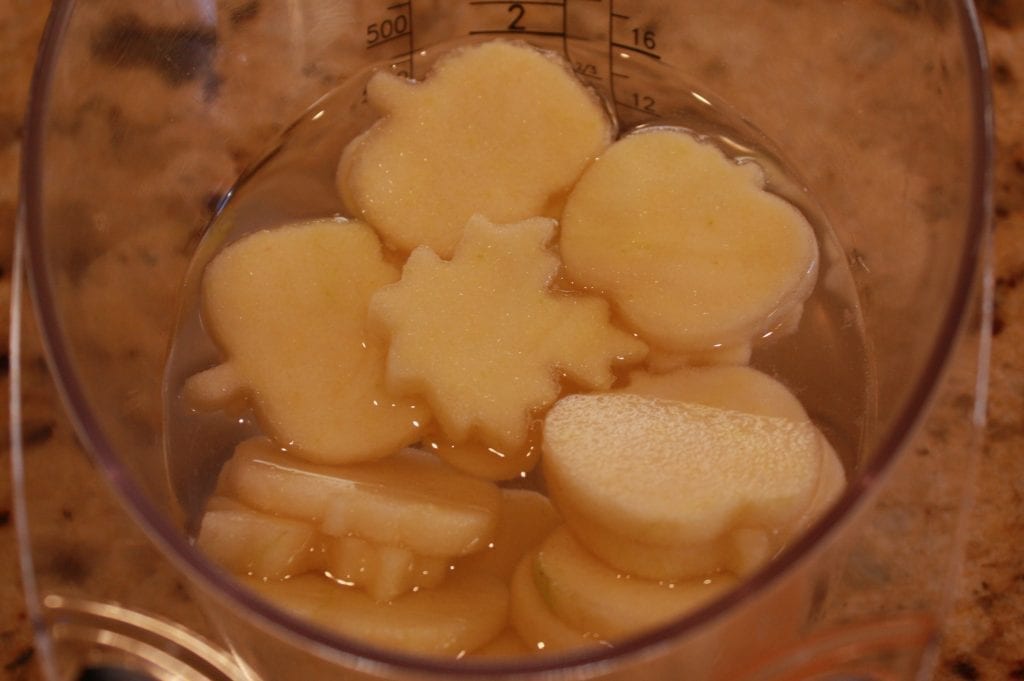 Add the sugar (or have your helper do it) and stir well. Set the apples aside.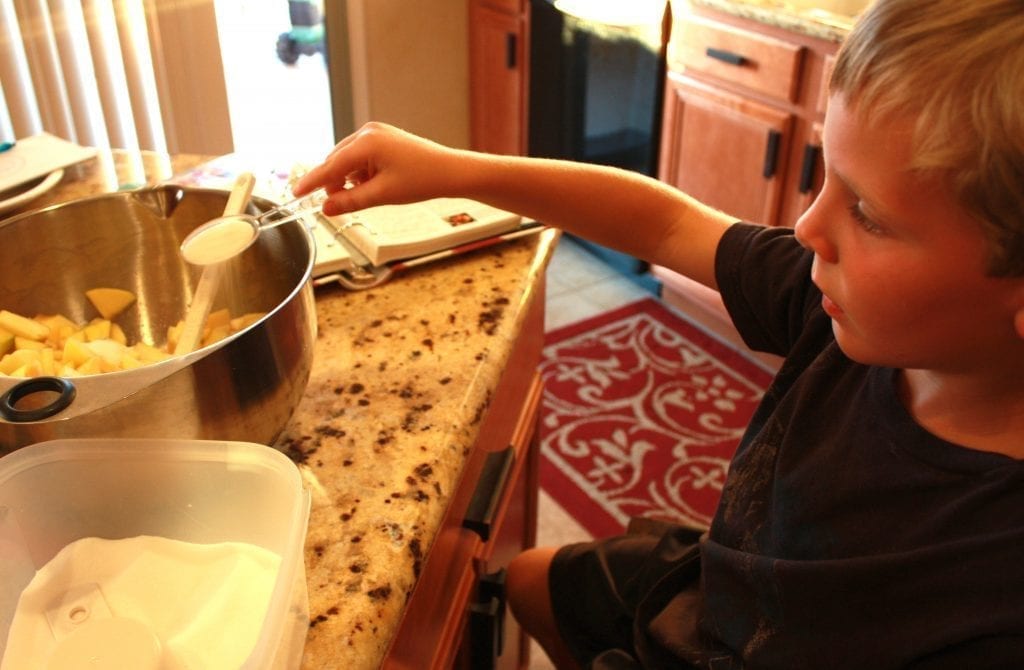 Combine oats, baking mix or flour, brown sugar, cinnamon and slowly add in soft butter. Trust me on this one – don't melt the butter or try to add in cold butter. It just doesn't work well.
If you are splitting the recipe and making some crisps gluten free and some with flour, make sure to keep them separated!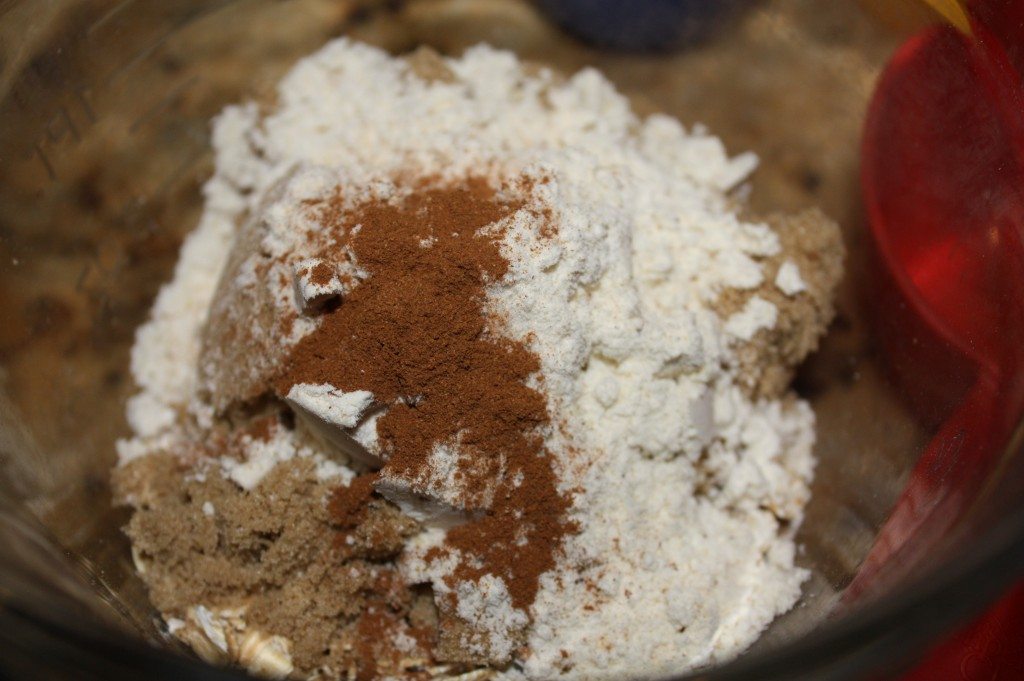 The end product should look beautiful like this: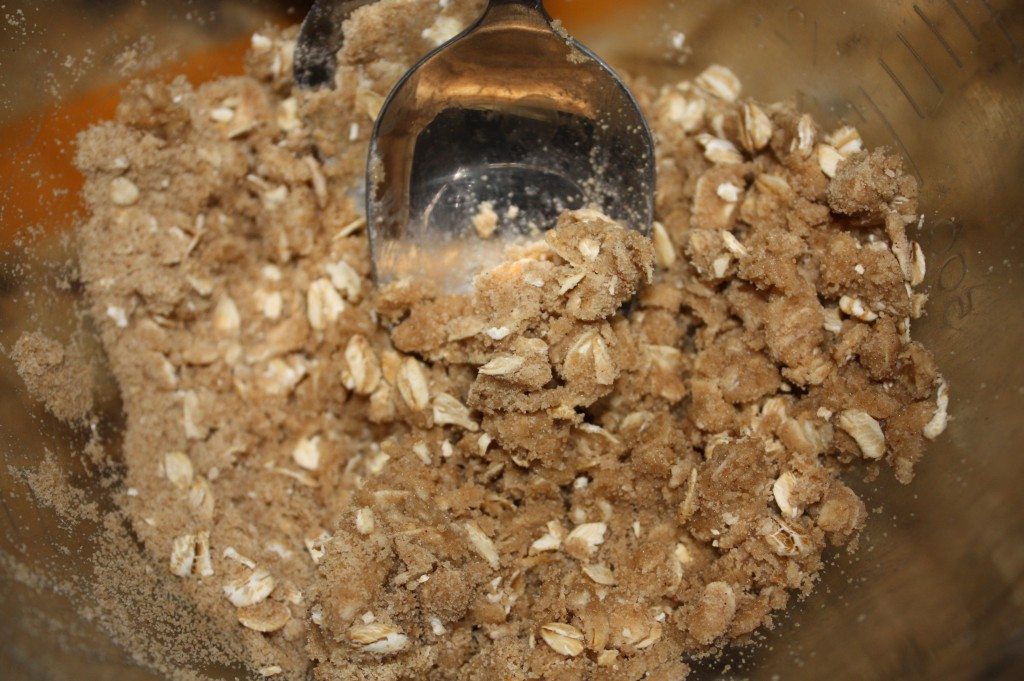 Fill each of the jars with apples. Fill half of each jar with apples. If you fill the entire jar (like I first did) you won't have enough room to put lots of the oats in. So fill halfway.
Layer oats mixture, another layer of apples, and more oats on top. Fill the jar as much as you can because you'll be surprised at how much it sinks during baking, making you think that the recipients will rename your gift "Half of an Apple Crisp in a Jar."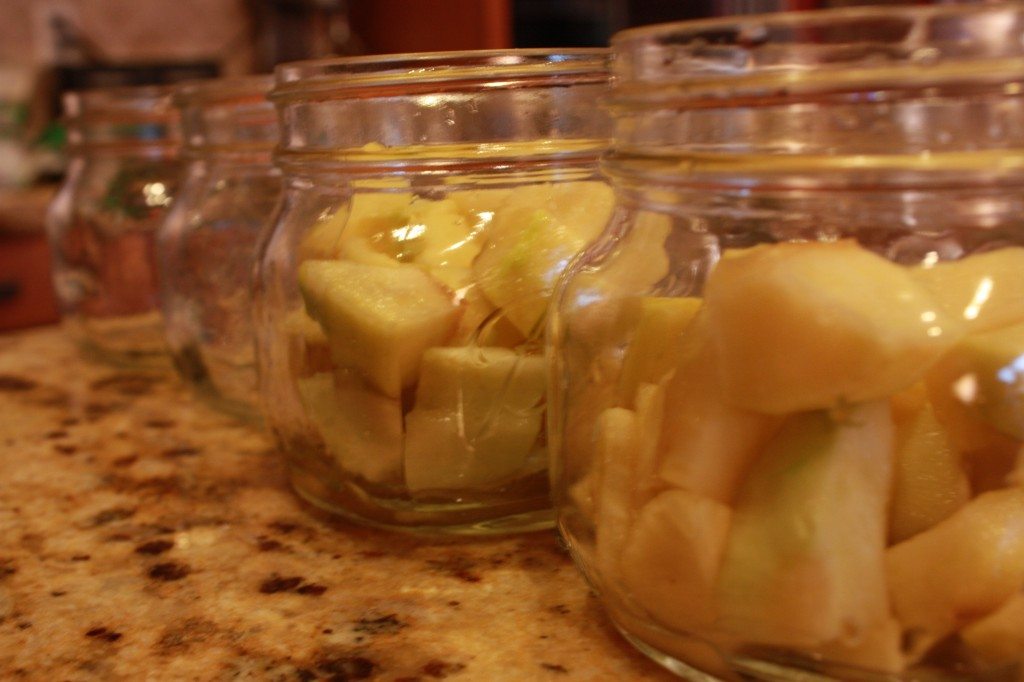 Get out those shapes and stick one shape on top of the crisps without gluten, and another on the crisps with regular flour. We used pumpkins for gluten free apple crisps, apples and pumpkins for crisps with flour.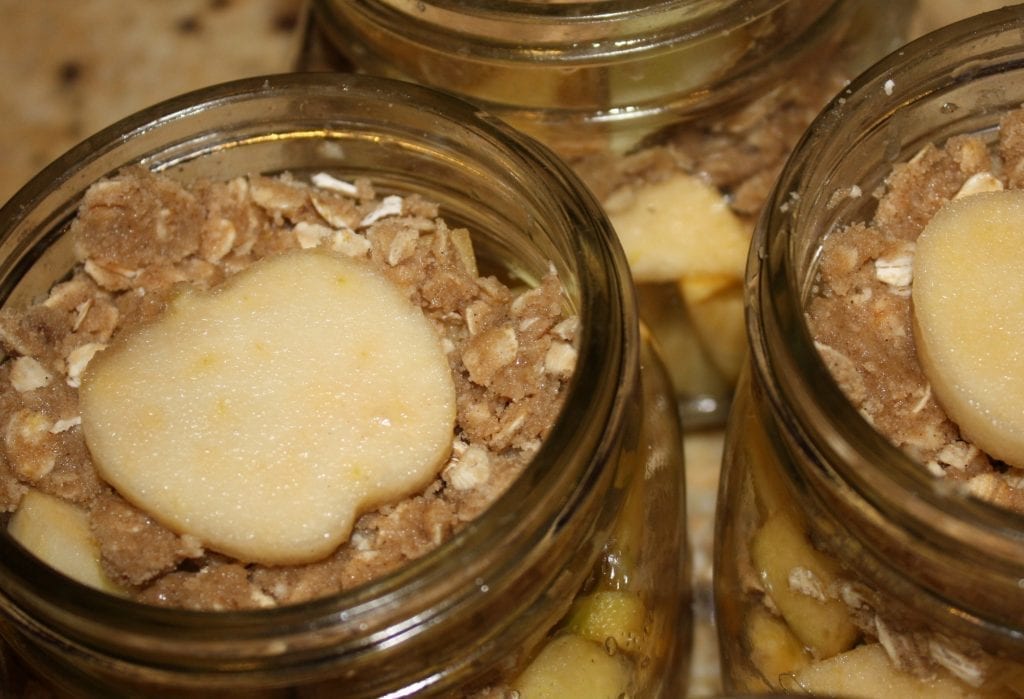 Bake at 375 degrees for 20-30 minutes. I just looked for browning.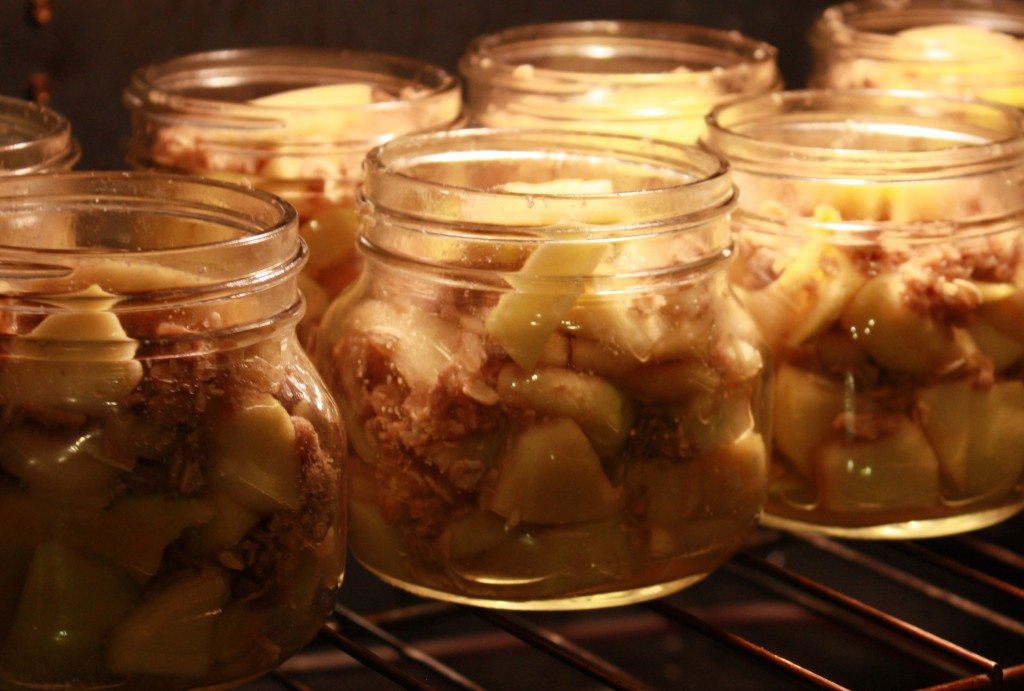 And viola! Apple Crisp in a Jar. I refrigerated these for a night, then put them and some mini containers of vanilla ice cream (to fill the other half of the jar that had settled) into a big cooler bag and brought them to the school for the boys' teachers.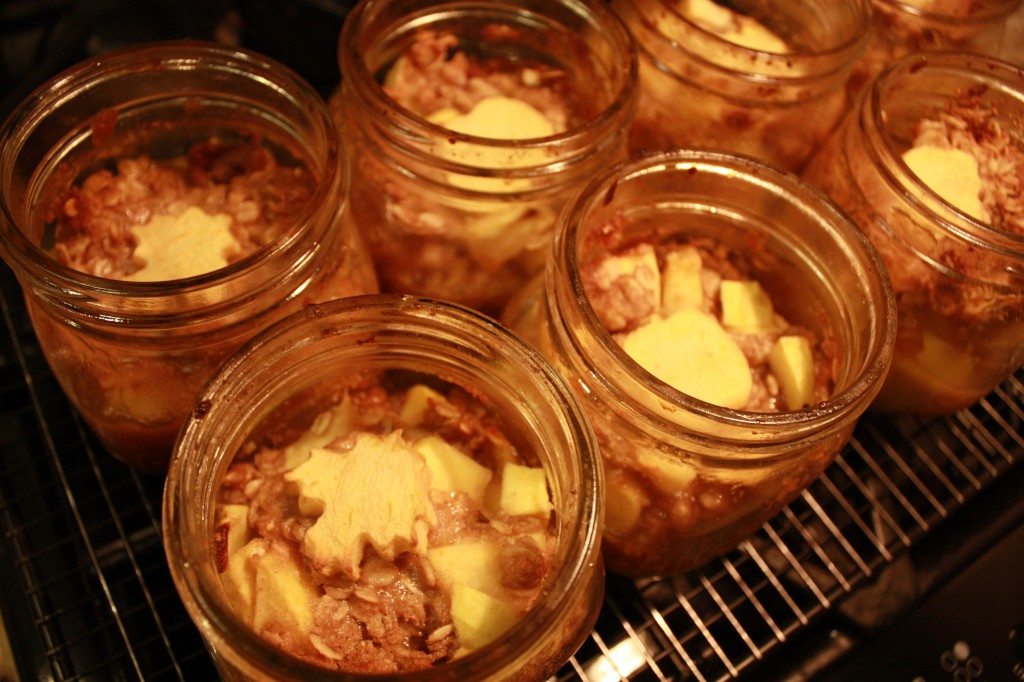 What's something fun you have made for a teacher? I need more ideas!
—–
This post is linked with Cindy's Made By You Mondays, Elaine's Miss Elaine-ous Monday, and…